My visit to Statue Of Unity
The Statue of Unity (SOU) is just about four hour's drive from Ahmedabad. It took me almost four years to visit this beautiful eco-tourism place which is just at a distance of 200 km.
We were contemplating visiting this place for quite some time but somehow nothing materialized. My favourite time to go on vacation is the lean tourist season. :). Gujarat has a very busy tourist season during the festival season around Diwali. So, I planned to visit this place just before Diwali.
We were very eager to go on a driving trip. And the nearest booking available was coming Sunday. We just grabbed it, though we know that Monday, everything will be closed. We just wanted a day's break from our routine life. The next available booking was after a fortnight. So, we set out on the 16th morning.
I and RB hit the road around 7 AM. It is a four hours drive. There is a vista-dom train connecting  Ahmedabad and SOU (Ekta Nagar Station). The train journey is equally enjoyable. We both have an inclination towards road drives, so we opted to travel by car. The road from Ahmedabad to SOU was great.
On the way, we had a stopover at Jagdish Snacks, an old and well-known eatery on the highway. We had our breakfast at Jagdish Snacks. It is located at the end of the express highway. You will find it just when you are about to leave the express highway to Vadodara. The place serves hot, hygienic and delicious local Gujarati snacks as well as other popular items. I prefer local delicacies. There is plenty of parking and clean toilets. These two are the basic necessities at a stopover on the highway. I recommend this place for breakfast when you pass by the Vadodara expressway.
We had booked our stay at Narmada tent city 1. The facilities are nothing less than any five-star. Our check-in time was Noon. We were almost on time. The reception hall is huge. It was almost empty. The staff was polite. We were served a welcome drink and then taken to our tent. We have booked a premium cottage, overlooking the river.  From here on, we were their "दामाद " :). Everything was arranged by them. The cottage was excellent. Though October is a very scorching month in Gujarat. But being surrounded by water, Satpura and Vindhyachal range, the place was cool.
We straightened our legs in our tent. Then, we went out for a round of the tent city and did some photography. After all, Instagram life has to be lived. 🙂 Lunch was available from 12.30 pm. It was a well-laid-out vegetarian buffet spread. We had eaten to our stomachs full given the five hours of outing. After the sumptuous lunch, we came back to our tent, had a short nap, got ready for the sight-seeing. Lots of walking is in store, so I had opted for my sneakers.
We were to assemble at the reception area, at 2.30 PM to board the bus. This whole circuit is eco-tourism and only e-vehicles are allowed. We left our car in the tent city parking. The whole tour was arranged on an electric bus. As I had mentioned, this was a lean season for tourists, there were around 20 people in the tent city, and we all were going together on this trip. On the bus, they handed each one of us a bag of dry snacks. There was enough water supply, so no need to worry about carrying water bottles.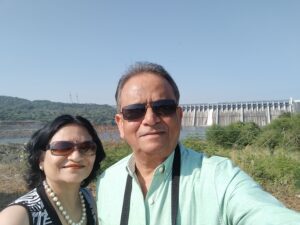 Our first stop was Sardar Sarovar Dam. It must be a sight to behold during monsoons when all gates are open. We visited this dam sometime in 2005. We stayed in the Government Circuit House at that time. It was situated on the top of a hill and had a mesmerising view.
There was valley of flowers and glow gardens in the same complex. From the dam viewpoint, we were taken to the statue of unity complex.  Three hours were alotted here, which was more than enough. One important piece of information is that no eatables are allowed in the SOU complex. The complex and the whole city are so vast and comparable to the best of the world. I was so proud to visit this place. There were big lifts and elevators in the SOU complex. Battery-operated cars and wheelchairs are also available. There are two levels – one at the foot level and other is the chest level. The view from both the places is beautiful. A museum dedicated to Sardar Patel is a must visit. The movie show should not be missed. After the Statue visit, we were taken to a place for a laser show. It was a 20-minute show. The show highlights Patel's life and his contribution to India. This laser show needs improvement.
After the show, we came back to our home for the night. The night drive was enchanting as all roads were so well-lit and decorated.
We soaked ourselves in the peace and serenity of the tent city. Dinner was ready from 8.30 PM. Again a vast spread, as expected, great service and tasty meal. After a satiating meal, we had a round or two of the tent city, before going to sleep. There was no TV in the cottage.
We got up early in the morning. Some cycling, walking and photography ! Our checkout time was 9 AM. We had filled ourselves up before leaving the SOU complex. On the way back, we bought some fresh fruits directly from the farmers. This was our lunch. I told you, we had a heavy breakfast. 😛
As our day 2 was Monday and everything was closed. So we missed some of the places like cactus garden, Zoo etc. But then, these were not of my interest.  On the way back, I wanted to visit Miyawaki garden and  a Maze garden, which I was told will be open to public on 31st October, on birth anniversary of Patel.
We were back home by 2.30.
A one-night sojourn was enough to freshen up!
Check my travel reel on my Insta profile.
You may connect with me on my social media – YouTube, Facebook, and Instagram.
About the Statue of Unity
At a height of 182m or 597 feet, SOU is the tallest statue in the world. Sardar Patel was the first home minister of independent India. Under his leadership, 562 princely states joined the union of India. It is due to his vision and efforts, we see India as a united country. SOU is located in the Kevadia colony, overlooking the Sardar Sarovar Dam. The project was announced in 2010 and construction started in 2013 by Larson & Toubro. It was designed by Indian sculptor Sh. Ram V Sutar. The inauguration was on the 143rd anniversary of Patel's birthday on 31st October 2018.
Sh. Narender Modi announced the project as the chief minister of Gujarat. He inaugurated it 5 years later as the prime minister of India. In the same year, the Statue of Unity movement started to collect the iron needed for the statue. Farmers were asked to donate their used farming instruments. It became a mass movement. By 2016, 135 metric tonnes of scrap iron were collected. However, political rivals made fun of it. But those who had donated their used farm instruments must feel proud to be part of this grand statue of a great son of India. In India, we miss any physical national symbols. SOU has filled that void.
Besides, lauding and respecting the role of Sardar Patel, the underlying themes and pillars of this project are –
Livelihood Generation
Employment Generation
Social Infrastructure
Environment Protection
Tribal Development
The posture, pose and facial expression show the dignity, confidence, iron will, and kindness that Patel's personality exudes. The head is up, a shawl flung from shoulders and the hands are on the side as if he is about to take a step". It is a perfect picture of his persona.
The statue is so strong that it can withstand the winds of up to 180 km/hr. It can bear the earthquakes of 6.5 on the Richter scale, with its centre at a depth of 10 km and within a radius of 12 km of the statue. The total height of the structure is 240 m. The base is of  a height of 58 m and the statue measures 182 m (597 ft). Gujarat assembly has 182 seats.
While typically tourists spend 1 to 3 hours at the Statue of Unity monument, one may spend 1 to 3 days covering all the activities available near the Statue of Unity. Activities that take the least time include Helicopter Rides, Boating Rides, and Laser shows.
The visit to Valley of Flowers, Sardar Sarovar Dam Viewpoints, Geodesic Aviary Domes, Pet Zone, Unity Glow Garden, Dino Trail, etc takes moderate time.
Activities that take the most time include Jungle Safari, River Rafting, Riverfront Cycling, Zarwani Waterfalls, and Shoolpaneshwar Wildlife Sanctuary. One can opt for different packages depending on the things one wants to do.
For more information, please check these official websites.