"Maharajah" ,Stay On!
This end of October  trip was planned to see our grand daughter in Kanpur. Our first grand child!! Gosh…what a feeling!!
Ahmadabad – Kanpur sector is not very well connected either by train or by air. The aerial distance from Kanpur to Ahmedabad is 866 km, the road distance between Kanpur to Ahmedabad is 1071 km  and by train it is 1212 km. The train journey from Ahmedabad to New Delhi by Swarna Jayanti Rajdhani ( 12957) while sleeping takes around 14 hours to reach New Delhi at 7.30 AM. I love journeys, which take me places while sleeping. Sleeping in one place and getting up at another fills me with excitement. I love the feel of waking up at a new place. The connecting fastest train to Kanpur leaves New Delhi  early in the morning, at 6.10 AM, so going to Delhi by train was out of question. Kanpur does not have any direct flight from Ahmedabad.
We opted for a late night flight to New Delhi and then planned to take the early morning train to Kanpur. The flight, reaching around midnight was of Air India. We booked ourselves ( Me and RB, my husband of 34 years) through this flight to reach New Delhi. We had used Air India after two decades. We had shifted to Jet airways and then to no frills airlines, as they offered reasonable fares and more flights at suitable timings as compared to others for domestic travels.
This time, it's Maharajah ( Air India) and I am happy, I did. The AI planes are bigger with more leg space for a comfortable ride. Food  was good and air hostess and flight attendants were well mannered and can speak both Hindi and English in the correct accent which was understandable. Saris provide a grace to the air-hostess. ( I am saree lover, hence biased towards it) They were prompt in serving passengers. As planes are big, they are stable while taking off, during the flight and touching down the grounds.
We boarded a late night flight from Ahmedabad ( 10 PM) and reached New Delhi at mid night. In another 40 minutes, we got hold of our booked luggage. We booked an Uber cab and reached New Delhi Station by 1.40 AM. Travelling at odd hours shows a different face of a city. Delhi never sleeps, as they say and those who are awake at night appears to be better drivers. 🙂
Our next train leaves at 6.10 AM, so we need to kill almost 4 hours. The IRCTC executive lounge at New Delhi Station is perfect for such short and little longer stays too. We opted for this  as this lounge is on the station only. We booked ourselves for recliners and had good sound sleep of 3 hours. This lounge has taken all the stress of spending time at the chaotic waiting halls of New Delhi Railway station.
As train leaves from New Delhi railway station at 6.10 AM from platform no. 9, we reached there by 5.40 AM after having complimentary morning  tea at the lounge. The train to Kanpur was Lucknow Shatabadi and they took good care of us. We were booked in Executive chair car . Bigger seats and ample leg space. The food aboard was sumptuous and there were many choices offered.
As the train starts, a 1 liter water pet bottle with morning news paper is provided. Within an hour of travelling, tea ( tea kit and hot water thermos) with biscuits ( good old Britannia Marie ) are served. Next we were served Kellogg's cornflakes and hot milk. Next came the vegetable cutlets with mango drink from Patanjali. There were many options and I opted for vegetable cutlet ( which came with two slices of brown bread, butter, jam, tomato ketchup sachet while RB opted for aloo ka prantha with curd. Other options were omelette- bread, idli-sambhar, poha etc. I love this crispy vegetable cutlet  served by Indian railways as now I am left with the memory of this vegetable cutlet from many of my earlier railways travels . It was tasty. In between somewhere, they served us with masala buttermilk and banana too. They served us well till we got down at Kanpur. The boys serving the coach were very polite and had a smile on their face.
We got down at Kanpur on time, booked an Uber cab and reached our hotel in Swaroop Nagar in half an hour. After freshening up, we reached the Arya Nagar area of Kanpur, a drive of 5 minutes from our hotel.
The moment of holding our little bundle of joy was nothing less than a divine experience. The 11 days wonder is the most beautiful child I have ever seen. Soft like a cotton ball, she was sleeping . What else an 11 days old baby can do after all? 😛
She woke up after few minutes as I took her in my lap. As our eyes meet, we made a lifelong bond. She smiles at me and what a beautiful smile. She was fully awake and we were having great conversations with her beautiful eyes wide open and lots of smiles. We stayed with our angel for 3.5 hours and then came back home after making her sleep.
We were to go to Lucknow next day by Uber cab. In Lucknow, we spent two days. Our return flights were also of Air India. One from Lucknow to New Delhi and next from New Delhi To Ahmedabad. All the three flights were international flights, so we had to come via immigration for transfer, which took long time than expected. A re-entry to the airport too. We have not given this aspect any importance earlier, but feel that for a domestic transfer, it's good to opt for domestic flight.
The flight to New Delhi was actually going to Jeddah, Saudi Arabia. It was an hour's flight and left at 2 pm. They announced of serving light snacks on flight but they served super light snacks of 2 small cookies and juice. Super hungry passengers on board. 🙁  We were expecting lunch on board as it's lunch time and flights taking off before 2.30 pm serves lunch. 
The next flight to Ahmedabad from New Delhi was late by 30 minutes. We started by 5.10 in the evening, instead of 4.40 pm. They served typical gujarati snacks and my stomach said thank you. 🙂 Two small smaosas, one cutlet, one gulabjamun and tea. Sumptuous and tasty. Maharajah did justice to it's name.
Hey Maharajah !!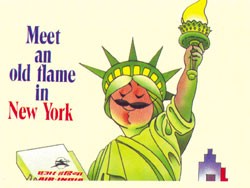 Bobby Kooka, then AI's commercial director along with artist Umesh rao created the maharajah, way back in 1946 conceived "Maharajah". "We call him maharajah for want of a better explanation. But his blood is not blue." It began merely as a rich Indian monarch, symbolizing cordial, affable and high living. His out sized moustache , stripped turban and eagle like hooked nose are some distinct features of Maharajah. Now this diminutive naughty Maharajah of Air India  has become world figure, who may be a french lover boy, sumo wrestler or a pavement artist…. He can effortlessly flirt with any one in the world and get away with it with ease, simple because he is Maharajah!!
The most recognizable mascot of any airline in the world!! Maharajah indeed is special. I only wish, the airline Maharajah represents also become as distinctive with it's services to it's travelers and take us places!!
Pics are from AIR INDIA and Google. All credits to creators.