Book Review – The Exfactor by Harini Srinivasan
"The Ex Factor" by Harini Srinivasan offers a glimpse into the chaotic yet relatable life of Oindrilla Roy, affectionately known as Oinks. While the book presents an engaging narrative, it treads the line between the average and the exceptional.
Set against the bustling cities of Delhi and Gurugram, and the serene beauty of Shillong, the story revolves around Oinks, a diligent data analyst at EOFA (Employment Opportunities for All). The narrative artfully captures the challenges of contemporary urban life, as Oinks navigates the intricate maze of her professional responsibilities and personal relationships.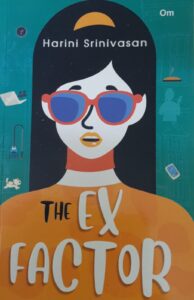 The book excels in its portrayal of relatable situations, highlighting the balancing act that young professionals often find themselves engaged in. Yet, amidst this relatability, a sense of repetitiveness occasionally creeps in, leading to moments of boredom.
Harini masterfully crafts Oinks' character, portraying her as a multifaceted individual with relatable struggles. One can see through her any contemporary Delhi-Gurugram woman. Her interactions with her mother, friend Sweety, and cousin Ankita add fun and complexity to the narrative. 
One of the book's strengths is Harini's adept use of language. She seamlessly incorporates colloquial phrases, Hindi expressions, and a touch of Bengali, adding authenticity to the setting and characters. 
"The Ex Factor" remains enjoyable. It captures the essence of daily urban life, with its ups, downs, and unexpected turns. Oinks' journey, manages to elicit empathy and understanding from readers who have encountered similar struggles.
"The Ex Factor" rests comfortably in a 3.5/5 rating. 
The author's writing captures the essence of human emotions through very close-to-real and humorous characters. This book is a perfect choice if you're looking for a light read that mirrors the intricacies of modern-day life, offering a relatable yet ordinary story of love, work, and second chances. Harini has thoughtfully included sequences about LGBTQ+ love stories and episodes of Naxalite extortion of common people to raise awareness and make them more relevant to the contemporary world.
So, if you're ready to embark on a journey that balances the humdrum of daily life with the sparkle of unexpected encounters, "The Ex Factor" could be your ticket to a lighthearted yet familiar adventure.
| | | |
| --- | --- | --- |
| Parameter | Rating | Comments |
| Plot and Storytelling | 3.0/5 | The plot offers relatable situations in urban life, but occasional repetitiveness affects engagement. Balances humour, familial dynamics, and romance, but lacks consistent novelty. |
| Character Development | 3.5/5 | Oinks' character is well-crafted with relatable struggles. Interactions with supporting characters add depth. However, some interactions loop back, leading to déjà vu. |
| Writing Style and Language | 4/5 | Harini adeptly uses language, incorporating colloquial phrases, Hindi expressions, and Bengali, enhancing authenticity. However, moments of monotony arise due to recurring situations. |
Overall Rating: 3.5/5
Why did I choose this book to review?
After reading the blurb on the Blogchatter site, I understood that I belong to a generation or two ahead of Oinks. 🙂  I applied to review this book as I have many young friends, who value my opinions and suggestions. I wanted to know more about their thought process, their life's pressures and challenges etc. so that I understand them better and in turn equip myself in a better way to discuss things with them.
Harini has showcased romance between the protagonist and two young fellows in much cleaner ways than what I have been reading in the stories written these days. And I really appreciate it.
This review is powered by "Blogchatter Book Review Program" 
This book is available on Amazon. Click here to buy it.
Happy reading!
Neerja Bhatnagar
Let us connect on social media.
Instagram | Facebook | Youtube | Podcast |