Awesome "Sharmaji Namkeen"
"Sharmaji Namkeen" was the last movie of veteran actor Rishi Kapoor, which he could not finish. Paresh Rawal has filled in the space for him. 
The movie depicts the mental state of a retired person.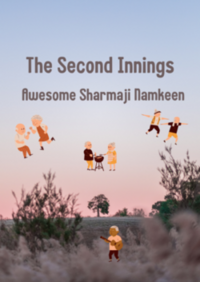 Sharmaji was forced to take VRS. He is a widower with two sons. For the first few months, he enjoyed the freedom but slowly he was becoming restless for want of nothing productive to do. He is a great cook and enjoys cooking. He thought of starting an eating joint but the older son who was working in an MNC  didn't approve of the idea. He sermons his father to enjoy life and stop thinking about such weird ideas. "Think about me", he said, "people around will gossip that I am not taking care of you".
There are parallel stories of both the sons and how they are busy with their life by doing things, they enjoy. I will not go into those details. I will focus on the emotions of Sharma ji after retirement as this is my theme for the month-long writing challenge.
I like Rishi Kapoor in general because of his innocent smile in his younger days. He was a charmer. He had perfected his craft over the years. And it was a pleasure to watch him in movies like Rajmal- Chawal, Do Duni Chaar, Mulk, Kapoor and Sons etc. which he signed in his second innings. Sharmaji Namkeen is also in the same genre. 
Wearing unfitted clothes, a confused look on his face, that big framed old-styled spectacle, he was every inch the middle-class old man from Delhi. He has very honestly shown all the dilemmas of a recently retired lonely man. 
Recently retired Sharma ji felt suffocated by the controls exercised by his sons who were not letting him set up a chat corner which he desperately wanted to do. He loved cooking. A friend played by Subhash Kaushik understood his uneasiness and helped him find cooking opportunities. This is when Sharma ji felt emancipated. He felt being alive.
He found his Ikigai in cooking and life became fun.
This is the lesson for everyone who has retired from active career life. Do something which you enjoy. Assert yourself and do things you enjoy.
Learn new things and I am sure, you must have heard that there is no age to learning. Do not become a secondary citizen and just wait for death to come and free your soul. 
I am participating in #blogchatterA2Z.